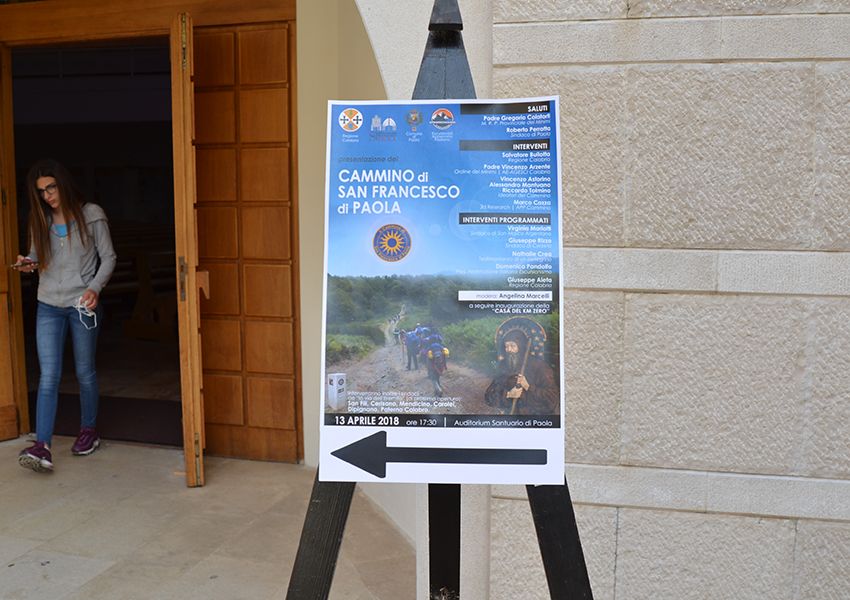 Walking with San Francesco: the official presentation of the app
Thursday, 19 April 2018
The last 13rd of April, the mobile app of the San Francesco di Paola path has been officially presented, at the San Francesco's monastery in Paola.
The application has been developed by 3D Research in collaboration with the path authors and is intended to guide the pilgrims who want to follow San Francesco path on their own. It provides them an interactive map on which are shown the milestones arranged along the way, the fountains and the rest areas. Moreover, it gives historical and artistic information at every stop-over, allowing the visitors to deeply understand, at every step, the Calabrian Saint's story.
The presentation conference has been led by Angelina Marcelli, the historical and scientific consultant for the event; among the others who joined the debate there were: Salvatore Bullotta, responsible for the structure of the vice-presidency of the regional council, father Vincenzo Arzente of the Minimi Order and Ae-Agesci of Calabria, Marco Cozza, CTO of 3D Research and the path authors, Vincenzo Astorino, Alessandro Mantuano and Riccardo Tolmino.
At the end of the presentation the "Km 0 house" has been initiated; it is a hospitality structure offered by the Municipality of Paola to the "Associazione degli Escursionisti Appennino Paolano", to which the path authors belong.
Since the beginning the path has been very successful. Recently it has been added among the 14 trekking paths of the "Atlante dei Cammini d'Italia", by the Mibact, while Touring Editor inserted it into the guide "Cammini di Calabria", one of the books of a larger collection about the most interesting Italian and European walking itineraries.
Tags